Gone are the days of having multiple bottles/boxes of medications laying around with clients trying to remember what you have and haven't taken. With medication packing using Webster Pak's, taking your medication is made easy and efficient.

Our variety of Webster-Pak's also come with a range of customisable features including colour photos on each pack, multiple languages and different pack types. More so, Webster-Pak's offer clear distinctive visual clues, which makes taking or administering medication easy. Webster-Pak's offer peace of mind to patients, relatives, carers and loved ones.
Concession Card
Concession medication packing includes, one free pack per week*

Non-Concession
Standard medication packing from,
$5 per week*
Terms and Conditions apply for all medication packing services, for more information please contact us.
Types of Packs
Webster-Pak Community
This pack offers a safe and convenient way to manage your daily medications. It allows for easy tracking of doses and includes comprehensive labelling and visual cues for an easy to use system.

Image of patient on the front of the pack to help easily identify the right pack for the right person.
Has flexible dosage times.
Includes features for different needs; low vision packs, Parkinson's packs and Multi-lingual packs
Webster-Pak 28
Aconvenient and disposable alternative to the Webster-Pak community. Includes robust cardboard frame that provides support for the pack with the convenience of being able to discard it completely once used. This is especially ideal for patients that are unable to return frames to the pharmacy.

Convenient and disposable packaging.
Distinctive visual cues.
Flexi-Pak Cold Seal
The Flexi-Pak cold seal allows you to tear offany dosages for on the go.

Different blister sizes appropriate for thenumber of medication of a patient.
Perforations in blister allow for easy removalof dosages, keeping the remainder of the doses intact.
Each compartment contains patients full name,dosage time and day and list of medications contained within that compartment.
Completely disposable.
Webster-Pak Low Vision
Webster-Pak LV is a high contrast pack for people with low vision. The pack features larger font and white text on a black background which makes it easier to read. Upper and lower (sentence) case textis proven to be easier for people to recognise words from their shape, and hence easier to identify the relevant day and dosage time.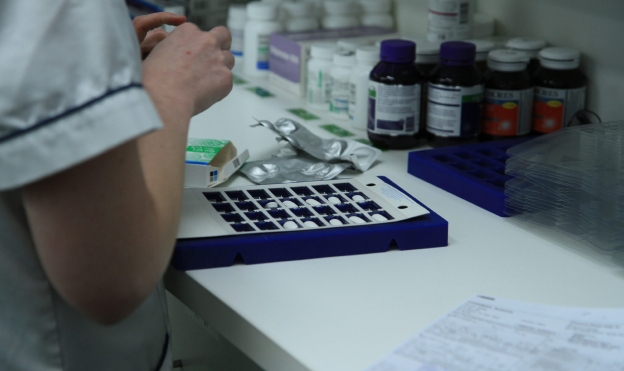 Our Packing Process
We receive your scripts to keep on file for dispensing of medications.
We create a medication profile for you with Webster care software.
An expert pharmacist dispenses your medication in preparation for packing.
Using Webster cares MedsPro technology, your medication is packed by a robot while being supervised by a packing specialist with over 10 years of experience in medication management.
Your medication packs are sealed and prepared for collection.
Contact us now
Find out more about Medication Packing